Leave Your Enduring Pet Memorial
Do you have a pet memorial picture and a story to tell about a pet you have lost? Would it help to share it with other pet lovers?

Goodbye is the Hardest Word to Say
by P.S. Gifford
By P.S. Gifford
How often we just take for granted-
indeed how frequently we forget,
just how special and rewarding
is the unconditional love of a pet.

Those little four legged critters,
we adopt into our own household,
just how much contentment they bring
could never ever truly be fully told...

As I sit here my canine Tasha,
lies quietly resting upon my feet,
she is the most beautifully spirited dog,
you could ever have the pleasure to meet.

She has been my sweet loving girl,
for going on six blessed years,
I could never express all she means to me,
and the thought of it brings me to tears.

For I rescued her just six years ago,
She was homeless and struggling for life.
Tasha had suffered from lack of care-
and it was simply mutual love at first sight.

For she is starting now to get older,
each day she's a little more tired,
I find it hard to conjure the words,
but for my heart's sake I know their required.

For each day she is growing weaker,
her life-energy is starting to wane.
and I know that life without her,
simply will never be the same.

The vet says it's just old age,
for she is getting close to eleven,
that soon she must leave my side,
to wait patiently for me in heaven.

But ol' girl I'll never forget the,
you have made me the man that I am.
And for your last weeks beside me,
I will comfort you the best that I can.

For I know that your work is complete
And to the rainbow bridge you must go,
but the magical memories in your wake,
must be stronger than my grief and sorrow.

For you'll live on in my heart for always,
I will treasure your memory so true,
For dear Tasha know this for always,
how incredibly much we all loved you..

Georgie Girl and Jonathan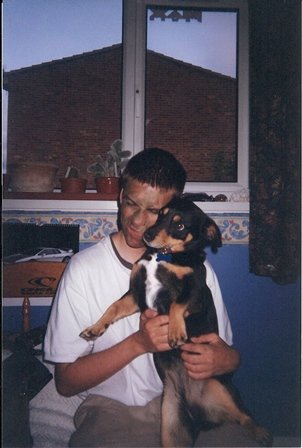 Jack Russell Terrier Georgie Girl and Jonathan. Passed Christmas 2010. May Georgie rest in peace knowing that she was a loved and vital part of the family.
In Memory of Bungee
by Vicki HIll, Florida
I'm giving you this name in Memory of my boy who recently passed. His name was Bungee. At only six weeks of age he was jumping up to see over my horse stalls. I had already named him twice but when I glanced over one day while sitting with some friends at my barn I appropriately named him that..
Please submit your pet memorial using the form below and we'll be sure to included it here.
Remembering My Jack
Sometimes what can't be expressed in words can be expressed on paper. If you've lost a Jack Russell and want to write a memorial about him, please do it here.

It can help to share the pain, and we at Pics & Tics as well as with Jack lovers all over the world who have also experienced the loss of their best friend can be a great help to you in your grief.

Place your memorial here and create a page of your fondest moments, as well as your saddest. Let us share your loss with you.

A picture of your Jack is most welcome too.



What Other Visitors Have Said
Click below to see contributions from other visitors to this page...