Jack Russell Terrier Pictures Gallery and More
 We created this website because I love Jack Russells and because I enjoy viewing Jack Russell Terrier Pictures while reading dog stories about my favorite breed.
If you've come to see great Jack Russell Terrier pictures, or if you're trying to learn more about this dynamic breed of dog, or if you're thinking of getting one, then you've come to the right place. Here you can find answers and ask any questions. We have a Vet answer all dog health-related questions and publish other questions and answers such as those regarding dog behavior and training. 
We also ask our readers from around the world to comment on your questions, a great source for expert answers on anything Jack Russell and unique characteristics of this and related breeds.
Is the Jack Russell Terrier a Good Family Dog?
Makes a wonderful family pet indeed! Jack Russell is a loyal and loving dog. Jack Russell will develop a strong bond with everyone. Jack Russell's goal is to satisfy its owner and make them loyal and protective pets.
For my own part, after having owned and raised two Jack Russells, I just don't know of another breed of dog like these little Napoleons.
Still confused, but interested. Read out guide to managing Jack Russell Terrier behavior.
Meet Our Featured Jack Russell Terrier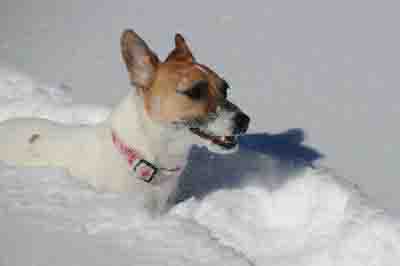 Tilly
What Better Way to Celebrate Summer Than With Tilly The Jack Russell That Loves the Snow.
 Read Tilly's Story.
Jack Russell Terrier Picture Gallery
There's none so loyal and none so affectionate as a JRT among all the pet animals.
Here are some quick links to our collection of Jack Russell Terriers with each picture contributed by their owners. These are much better than even great  Jack Russell Terrier stock photos you find online on other sites.:
See all of the Jack Russell Terrier Pictures
Send Us Pictures of Your Jack Russell So We Can Feature Him or Her on the Site
We are now accepting your pictures and stories for the next featured Jack Russell.
To send your Jack's pic to get in on the fun click here.
If your Jack is selected, you will see your own Jack featured right on this page and throughout the site.

So come on guys! Send your Jack's pic in by submitting it here, just fill in some basic information about your JRT!

They learn extremely fast and grow into dogs who love to please...that is, if a firm hand is exercised in the puppy years.
My honest advice to those of you considering a Jack Russell as a new family member, is to make sure you have the yard space this dog needs to run and play and hunt.
And be available to give him lots of attention and affection, because they DEMAND it.
Without a doubt these dogs are high maintenance. But it's because they're more human than animal... always thinking about stuff... always looking for the next big fun and the next big adventure.
So unless you're ready for a dog like this, I'd advise against getting one.
But if this is just what you are looking for, I promise you, you'll encounter the most loving and endearing personality you'll ever come to know.
Would you like to your dog on our site so the whole world can see him or her? If so, just click here to email the pictures to me. Please send at least 4 to 5 pictures so I can create a slide show and also write a short paragraph describing your special pal.
There truly is no other dog like the Jack Russell Terrier.
This site explores the unique beauty and the dynamic nature of the Jack Russell. After surfing this site, you may feel you've just got to have one!