Gallery of Jack Russell Terrier Pictures
 Welcome to our reader submitted Jack Russell Terrier Pictures. Please take a few minutes to enjoy these Jack Russell Pics and stories. To join in on the fun just submit your photos and a story about your Jack.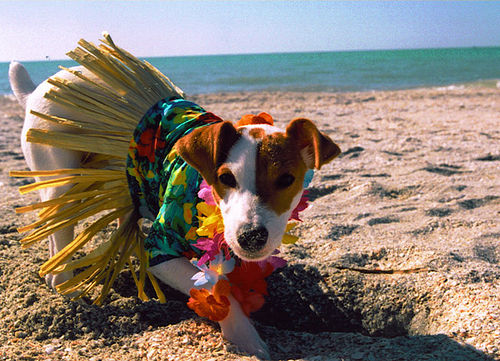 Reader Submitted Jack Russell Terrier Picture
You might want to bookmark this page as we will be adding and updating new and great Jack Russell Terrier pictures all the time.
And please I need more and more pictures of Little Jacks. Dig some out or take some new ones and get them to me asap!
Would you like to see your own favorite Jack Russell pictures featured here? Great! Just send me your photo and I'll love making your dog available to Jack Russell lovers all over the world!
Would love to get some pictures of Jack Russells with barnyard animals, or with children.
You can upload your photos by filling about the form you can find on this page here.
Meet Occy Sent to me by Cliff in Australia
Occy, The Jack Russell Terrier, Taking it Easy
Here's what Cliff writes about Occy:
"Occy was born on July 19 2008. He adopted me when he was 8 weeks old. Prior to Occy, I had Cassegrain, and Laddie, sadly Laddie passed away a few days after Occy was born. He was almost 18 years old. When Occy joined the family, Cassegrain (14 years old), my other dog, mothered him for a while as you can see in one of the photos. She disciplines him when he is naughty. She loves him and he loves her. They love their long walks everyday on the beach. Occy loves digging up my garden and chasing anything that moves. Occy loves people and plays well with other dogs in the neighbourhood. He sees the world outside the front gate as a huge amusement park and loves to explore, I always keep him on his leash when I'm outside my house. Like any dog lover, I think he is my little champ."
Thank you for the awesome pictures Cliff!
So Cute! A Great JRT
Meet Autee
Jack Russell Terrier Puppy Autee
This is are puppy named Autee he is very loving and likes to give kisses and hugs and barks at my husband. He likes to hide his bones. He is well trained and he scratches the door when he wants to go out for pee.
Thanks for sharing Cindy.  I'm so glad your Jack is bringing your family such great joy.
Meet Bosco
Bosco the JRT at the Beach, Unsure of the Waves!
Bosco is 2 year old Jack Russell Mix. (his mom is 1/2 chihuahua.) He's a crazy little man who give me lots of exercise! I got him from a girl who didn't know what she was getting into when she got a JRT and was going to send him to the pound. I was only suppose to have him for a few weeks until he found another home but, I fell in love with him and decided to keep him!

Annie, my Jack Russell Terrier
I love taking pictures of my dog Annie...with doggy clothes on! And because she hates it, that's actually what makes for such a good shot!
People love seeing dogs in clothes and so do I.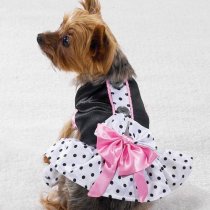 With the latest fashions for getting your Jack Russell dog all dolled up! I need more Jack Russell Terrier pictures of dogs in doggy clothes to present here at Pics & Tics.
Jack Russell Pictures From All Over the World
Mac My Love
by Junior Mancuso from Las Vegas Nevada
This is Mac, part of my life or the best one, He was a stray dog puppy with 8 or 9 months old and his sister Clarice a puppy German Sheppard with 6 months old, when my ex girl friend found then, but for couple reasons we couldn't keep then with us that moment and we drop both at Shelter in Texas, but every single day we drive to there and look how he and Clarice is going, we try adopt both but the manager in my apartment refuse to accept Clarice because she was a German Sheppard over 30 pounds..We were very sad about this, until some Saturday in October in 2009 we finally adopt him and other person adopted Clarice, now he is 3 yrs..I love him and we are always together I pray every day and say thanks God for this gift he is wonderful and lovely..We love you Mac.

Jack Russell Terriers are a Curious Breed That Like to Explore Their Surroundings
I so appreciate the excellent pictures photographers from all over the world have allowed me to use to grace these pages.
There are some really fine shots here and continue to bring pleasure to every viewer that visits Jack Russell Terrier Pics & Tics.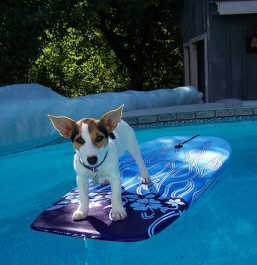 Now don't forget to send your best photos to me. We' love showing them off to the whole wide world!
Send the humorous and the profound, whatever...as long as it's a Jack Russell.

And come back often to see the latest and greatest pictures as well as unique information about our favorite breed of dog...the Jack Russell Terrier.  
Did you recently get a new Jack Russell puppy and you're looking for just the perfect name? Then check out these very British Jack Russell Terrier Names.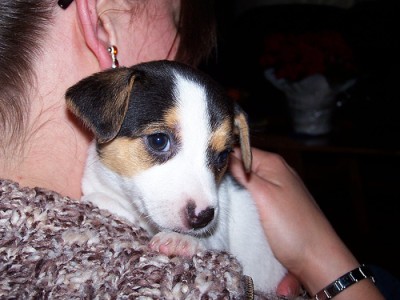 Jack Russell Terrier Puppy
Say Hi to Daisy the Jack Russell From Syracuse New York
Pictures of Daisy were submitted by Jen from Syracuse, NY
I inherited Daisy from my sister after her Beagle "sister" attacked her and she had to go through emergency surgery. I was never much of an animal person until I started taking care of Daisy right after the surgery and I became so attached to her. Now she is my little shadow and follows me everywhere.  I can't imagine my life without her in it now.
Daisy is 10 years old, but still acts like a puppy.  She loves her tennis balls and her long walks - 3 walks a day on average.  Her favorite snack is popcorn.  She is definitely high maintenance, but I can't imagine not having her in my family.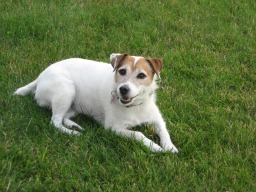 Meet Jimbo the Muscular Jack Russell
Jimbo Loves to Pose and Represent for All Jack Russell Terriers
They are extremely muscular as well. When you would pick up my dog Jimbo, it was like picking up a canine Arnold Schwarzenegger!
He was very stiff and hard all over and didn't bend very easily. And he was 9 years old!
I've always said, if Jack Russells were the size of a German Shepherd, they'd be 'Terminators' of unbelievable strength.
---
Most members of this breed are photogenic dogs, because these dogs are simply outstanding in looks.

Surely you're not tired yet! Not when there's so many more  Jack Russell Terrier pictures to see!   Remember, everyone can join the fun by submitting their pictures of Jack Russell Terriers by completing this form:

Have Pictures and A Great Story About Your Jack Russell?
Do you have pictures and a great story about your Jack Russell or Jack Russell Mix? Share it for us for all to enjoy by entering your Jack Russell stories and uploading your pictures below. If you have more than 4 pictures, just use the same form a second time.
Jack Russell Terrier Pictures and Stories from Other Jack Russell Fans
Click below to see contributions from other visitors to this page...