Penny the Jack Russell
by Heather
(Scunthorpe,North Lincs)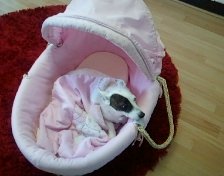 This is Penny 7 years old. Shes so lively and joy full. She loves her toys and running for her ball. Shes spoilt rotten! She has her own babies crib to sleep in, and her own sleeping bag. She loves to snuggle up and keep warm. She hates being cold. And covers her eyes up with her paws at night times.


I take her out to the shops in her buggy and she loves all the attention she gets. She loves posing for photos.
She also has walks with my boy friends dog, Dugal,who she loves playing with.Dugal was a rescue dog from Jerry Greens,who they said didnt get on with other dogs. Bur he loves Penny,our little Jack Russel.
She sits in the car when we go out so proud, and loves opening the electric windows herself. She comes every were with me. She loves our girly nights when we try new clothes on her too.