Kimberlite Jack Russell Terriers
by Alison Cook Cilliers
(California, USA )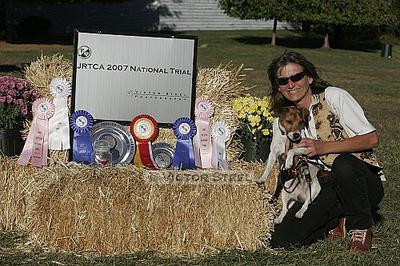 Alison and Livington at Nationals
Welcome to Kimberlite


Our life with Jack Russells began in the early 1990's,
one summer for our Anniversary we gave each other our first Jack Russell Terrier, Inja. She came to us from Southern California at 3 months old, she arrived and proceeded to climb over the puppy divider and she explored the house! Our Lab was not so sure that it was a good idea and spent the rest of her life helping us "train" Inja. We thought what a smart, athletic little girl, and that she was...she was everything we thought she would be and more.
She had a passion for playing frisbee or ball and her natural instinct for hunting was incredible to observe. She could trail her prey tirelessly for hours on end! She could clean out a barn in no time and loved it. We took her everywhere with us. She rode in the car, went to work, became an Obedience Champion, and worked as a Therapy Dog, was my first Agility dog, rode on the horses, ran on the trail with us and Jesse our Lab and kept up with the horses, she took us to our first trial, where she amazed us with her natural abilities. And she showed us how much we needed to learn....
She brought us to our first JRTCA trial..We entered everything..She tried GTG and ran through the tunnels like a banshee, from the beginning tunnel, she moved right up to the Championship Tunnel where she decided to stay and cool her heels and won our hearts all over again. She took me to my first Agility trial, my first Flyball Tournament, we competed in Obedience (just like all my other "big dogs" had ) and won many Championships over the years! Towards the end she and I entered and won a Championship in Rally without ever taking a class. I miss her every day, and thank her and her son Kimberlite Livingston , and daughter Kimberlite Bonney for bringing us so much joy and bringing so many wonderful people into our lives. Our Jack Russell family has grown over the years, and most of them trace back to one of these three wonderful terriers.
I
Like so many people who are interested in being owned by a Jack Russell terrier, we had searched for Inja for over a year, looking as many people do when they start their search, for a particular "look". We both had known several Jack Russells that had endeared themselves to us in our lives before any joined our family. At the Equestrian center, we had know Hoppy, the best friend of our Labrador Retriever, everyone seemed to know him...Barry had family members and friends that had terriers as he grew up. Particularly memorable was Biscuit a shortie Russell that had lost an eye falling off a hay truck, who could jump and catch a ball 5 feet in the air, smiling the whole time.
Jack Russells are very smart dogs, they can be a lot of fun to be around and play with, keep in mind that they are quite energetic and need to "work" to occupy their bodies and their minds. We play ball, stick, kong, Frisbee, do Agility, Practice Flyball, Obedience, lure course, race, do Go to Ground, take long hikes, ride with the horses, and they still have energy! We absolutely love them for the lovely dogs and the"terrors " they can be.
Our Jack Russells are our beloved pals, on occasion should Adults become available, they will be discriminately offered to pre-approved homes only.