JRT Puppies Are Here
by Mary
(Moriarty, NM USA)
Well it the morning of April 16th and I knew this was the day. Little Echo was going to deliver her pups. She had an easy delivery especially for her 1st time. Two girls, both tri colored and two boys, both black and white. She is an amazing mom to these "kids". Their eyes have just opened and in a couple of days their ears will open. Then it will be so exciting going into the puppy room. I'll say something and they will all jump up to respond. They are great little eaters and chubby little ones. I hope they can stand up on those chubby legs. hahaha. Well they are up for sale at 8 weeks of age and hopefully I can find appropriate, well informed jack russell homes. I'll keep everyone updated on their progress. Just wait till the next pictures are taken, they will have really changed, they change everyday, and I see them constantly. It's just amazing to watch them grow as individuals and see how their personalities start to take root.


The picture above is a picture of the dam of the litter, Echo. She has the sweetest disposition.
Till next time!
Harborview Jack Russell Terriers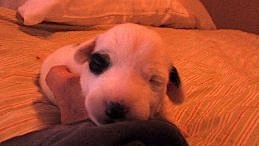 Here they are at 3 weeks old!