Jax the Jack Russell?
by Jan Dillard
(Missouri)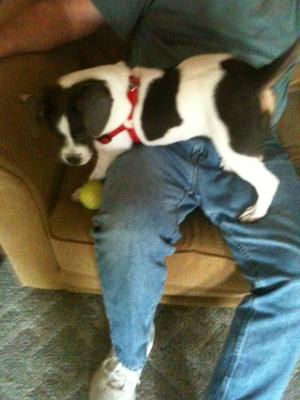 Jax the Jack Russell?
Yes, from all appearances, I would say this little cutie is a JRT. Here are pictures of mine...note the similarities in markings, triangle-shaped ears; body type and stance, demeanor, etc. My little JRT has long legs and smooth coat; but some, like the one you have shown, have "wire-hair" (such as Eddie, in Frasier). Some have shorter legs, like "Rim Shot" in the "Ernest" movies. Re the tail, I have seen multiple pics of JRTs with longer tails, but I think generally they may be, for show purposes...cropped? Anyway, if I were guessing this one is a JRT, and I would recommend that whoever gets to take him home be willing to give him basic dog obedience and lots and lots of DAILY exercise. And be ready to be "outsmarted".


Ours "trains us" on something new every day. :) Blessings, Jan