Jack selected best player world cup 2010
by Skander
(Madrid, Spain)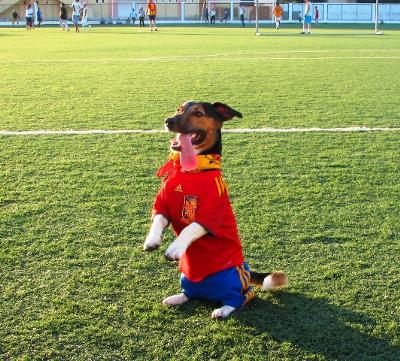 Jack Mascot of 2010 World Cup Champions Spain
JACK, MASCOT OF THE SOCCER WORLD CUP CHAMPIONS i.e. SPAIN


Smart, obedient, handsome, playful JACK RUSSELL - 20 months' old - fast learner, dynamic, love getting people's attraction. Love playing Football: a passion:
Jack has a profile on Facebook created June 27th, 2010 and has 1,900 friends; many of them are advertising agency, cine production, famous photographers, Television representative.
His profile on Facebook is Public content: YACK TORRES ALONSO or Jack Negrito.
http://www.facebook.com/jacknegrito
In one month his pictures and videos attracted almost 2,000 fans. Check out his profiles and especially the two latest videos:
- Pre-fiesta celebration before the World Soccer final (in the streets of Madrid) playing the new rising star.
http://www.facearbook.com/video/video.php?v=113765192008774#!/video/video.php?v=109729332412360
- His first Football game in a stadium, hilarious and comments are just the same. Fans love him for his extreme athletic condition and Soccer tactics.
http://www.facebook.com/video/video.php?v=113765192008774#!/video/video.php?v=113765192008774
Jack