BRAVO "DOGGY" the Jack Russell Terrier
by Jerelyn
(Terni, Italy)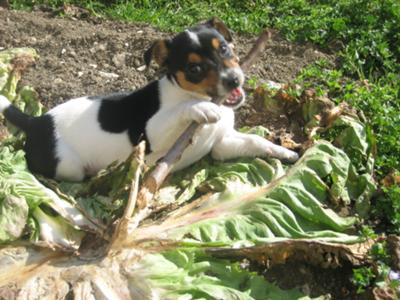 playing at the garden
Doggy is an Italian pup, 2 months old now. He is a fun loving puppy, very observant, intelligent, greets every new people he met and greets our friends too by moving around quickly and his tail moving from left to right everytime he say hello.Playful everywhere, fearless, used to play from our garden and eats different fresh salad everyday from our salad corner closed to our garden. So funny because since he is growing he is learning to make love with his stuff toy pup and i used to have a stick when he do some foolishness but when he saw it he will run far from me and go to his corner behaving and staring me with his two beautiful eyes..We love him very much like a child. He is a unique pup "DOGGY".


THIS IS AN ADDITIONAL STORY AND PHOTOS OF DOGGY'S PROFILE FOR THE MONTH OF APRIL JRT CONTEST..PLEASE LEAVE SOME COMMENTS AND FEEDBACK..GRAZIE FROM DOGGY
Join in and write your own page! It's easy to do. How? Simply click here to return to Jack Russell Terrier Photo Submissions.