"Ace" the terminator/exterminator in our house
by Maura
(Maryland USA)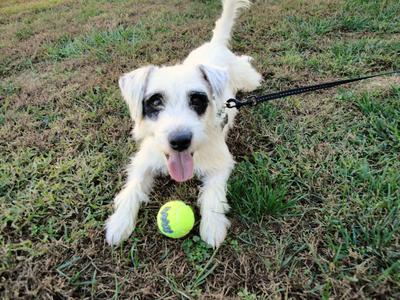 Ace's first day in our home
We adopted Ace and were told he was a terrier mix of uncertain origin. We noted his panda-like appearance with 2 big black eyes, symmetrical ear markings, and had him DNA tested. The results were Parson Russell Terrier going back 3 generations. We hit the Jack pot!


We quickly discovered that Ace had a number of behavioral issues. We're Ace's third owner, he was given up by the previous ones for unknown reasons and ended up at the shelter. Before he was euthanized at the shelter, a rescue group saved him and put him up for adoption.
Ace has now been trained and his behavioral problems are under control. He's a very smart, friendly, and well behaved PRT. Ace has a broken coat and is a beautiful dog, and we are asked all the time what breed he is.
We live in farm country and Ace delights with dispatching the mouse population both inside and outside of the home. He definitely has skills. And he seems very happy to do it.
After a rough start, he is now a happy, healthy, trained terrier. A trained Jack is a happy Jack.
Thank you for allowing us to share our story.